The Estate
Heir to the artistic property in Roger Lips' estate is a close friend from Lips' last years, the Cologne painter Franz Bungter. The estate includes all of the film material (slides and negatives), albums as well as sketches and diaries. One year before Roger Lips' death I was able to begin sorting through the various works. Later I was then well-enough acquainted with the boxes and crates to be able to completely document the estate. In 1995 and 1996 a comprehensive catalogue of artwork and exhibitions was compiled, which served as the basis for this documentation.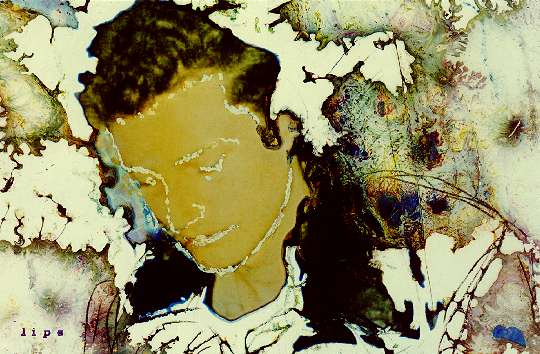 This early picture from 1985 was a special little discovery. It was signed on the front using a homemade lettering stamp.
Since 1996 works by Roger Lips are again being loaned out, and smaller exhibitions highlighting specific aspects of Lips' work are organized.
An extensive exhibition of the artwork could not be held up to now. The first larger retrospective will probably take place in Cologne sometime in 2001. A comprehensive publication for this exhibition is planned.
The Catalogue of Artwork includes 240 different photographic works from 1978 to 1994. With one exception, up to now only works that had already been exhibited or were already framed were included. The cataloging still has to be done for the sketches, drafts, drawings and the extensive B/W negative archive from his youth. There is little of the drawings available, which Roger Lips really didn't value after 1986 and had then no longer continued. However there are slides of numerous "designer postcards" which Lips had drawn, used collages and finally reproduced himself, as well as an early printed postcard series with four motifs.
It was Roger Lips' wish that after his death his works would be kept in a national collection or museum. That's why I – along with Franz Bungter – are still looking for a place (or even several places) that could take over the works after the planned retrospective exhibitions and the documentation, and ensure a public presence for the artwork.
Institutions and public and private committees can now borrow works for exhibition purposes. Please direct your requests to one of the addresses listed under Contacts.
Thomas Michalak, Berlin, November 1998